Klaus was in his attic, painting a picture of the beautiful sunset with the color of Lucien's blood and a shade of blue he picked up from a wildflower that bloomed in the backyard of his second house where Hayley used to live when she was pregnant and before she married Jack. Cami, wearing a black sleeveless-with-a-fine-v-neck top and blue jeans, barged into his house, calling him impatiently.
"Klaus?"
He heard her but didn't bother to respond. Too busy to finish the painting before the sun truly sets and wraps New Orleans with darkness once again.
"Klaus? I know you are here."
She called out again, this time with more force in her voice than before. Klaus huffed in annoyance, he seemed angry, but when it comes to Camile, he always manages to bring out his softness, somehow. He came out of his closest and stood in the open balcony, looking below at the huge open space inside the great Mikelson House. Looking down at her.
"What are you doing here, Cami? I thought I told you to stay away from me. You know how seeing each other like this is not good for both of us."- he said sternly, worry clearly written across his sharp facial features.
"We need to talk."- Cami said and hurried towards him, ascending the staircase.
"What is there to talk about? You are not safe in New Orleans, and you need to leave. I'm afraid there is no other option."- he objected.
"But I need to be here."- Cami protested, crossing her arms across her chest and looking straight into his eyes defensively. "I can't leave New Orleans because I need to find out what happened to my brother Sean. And you."- she added the last part with a clarity in her eyes.
Klaus's face darkened. A shadow of confusion passed through him when she addressed him.
"What about me?"- he asked.
"I need to find out what you did to my mind that I can't forget about you."- she spoke softly, coming close to his proximity.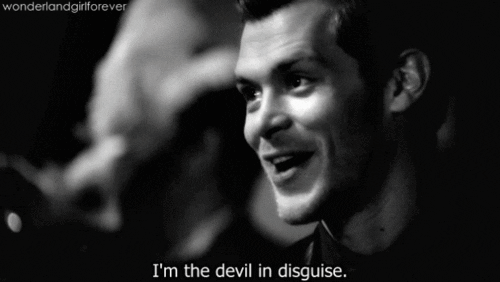 Klaus let out a breath and said, "well, that's how the mind compulsion works, love." Then he looked into her bright green eyes and added, "but I don't remember compelling you to think about me."
"Damn right, you didn't."- Cami snapped, "but I'm pretty sure you compelled me to forget about you, and now I'm not sure how I still keep remembering your smile every time I try to leave the city."
There was a mischievous smile on her face that reached her eyes and confused Klaus even more. She was lying. Cami was not oblivious to how she broke Klaus's compulsion because she was there, all in flesh and conscious, when Devina, the all-powerful witch, freed her from Klaus's mind-control games.
"Now you are playing mind games with me, love."– Klaus thought to himself but said nothing. Instead, he kept looking her into her eyes, waiting for Cami to speak out her feelings.
"I want you to make a portrait of me right in the attic and gift that to me before I leave New Orleans."- she whispered into his ear. "This way, I can leave in peace."
He smiled that crooked smile, revealing the dimple on his left cheek. Thousands of wicked thoughts were hovering inside his head, and Cami could read them if she wanted. She is intelligent and naughty herself, but she wanted Klaus to act. All of her life, ever since she met him, all he showed was manipulation, protectiveness, and care. He had been, as she knew, a million things to others, an evil Original, a badass brother, and a beast, but Cami knew that he was romantic, charming, and hot. He had been all these things in life but never a pervert.
"What's more attractive than that?"- She thought to herself. "What's more attractive than a man who puts his family over everything?"
Klaus looked away for a moment. Cami feared he would say 'no.' And if he did, she had no backup plan to convince Klaus to do it. The thought of double-crossing Klaus shook her up, and she wouldn't dare. But he didn't reject her. He came closer to Cami and said softly, "come to my attic."
The attic is where he kept most of his painting stuff. The walls in the room are surrounded by many of the paintings that he has created. He led her to his room, showed her a seat, and ask her to sit down. He ignored the canvas where he was painting the sunset a while ago and brought out a thin paintbrush and took it between his fingers, standing before a blank canvas to fill it out with colors and meanings. Cami thought he would want her to strip, but Klaus being Klaus, didn't take that advantage out of her even though he wanted to.
He was just trying to draw her face. Maybe painting her body was also in his mind too. Sensing the tension in the room, she began to undo her buttons, one by one. And when Klaus finally looked at her, he realized something was going on.
"What are you doing?"- he asked
"Taking off my clothes."- she replied boldly. "I didn't come in your room to let you paint a normal picture of mine. I want you to make me sexy in your art."
He opened his mouth but didn't talk, so he closed it again, this time for the first time he was letting Cami go by her will.
When Klaus started to draw her, she had already taken off her top. " Do you want me to take off my pants?"- she asked him nonchalantly.
"No."- he snapped. "I think you look fine."
Klaus was already aroused by the scene of her sitting naked in his room with her hair pulled up in a messy ponytail. But he didn't want to show. He didn't want to show her that she brings out the soft side in him. He went on painting her portrait, and with every passing second, his erection started to grow, threatening to rip out from his black jeans. He looked at her, drinking in the beauty of her olive-naked skin and perky tits that were gazing at her. Her nipples were rock-hard; he wondered if they sensed an inkling of the rock-hard shaft of his own.
Her gaze challenged her as if to come closer and hold her in his arms. But he fought it; he didn't want to give up like that. He was too stubborn for that.
"Love is a vampire's greatest weakness, and we are not weak. We do not feel, and we do not care." – he told this once to Elijah, yet this time, there is something about Cami that he feels. And as a vampire, every feeling is intensified. He has suppressed this feeling for a thousand years, replaced it with anger and perseverance. But this time, there is something in him that urged him to come out. He had two options—either drive Cami away with his anger or give up on the feeling of holding back. He chose the second one.
Klaus rushed towards her and cupped her face in his warm protective hands, placing his lips on her soft pink ones for a long and deep kiss. When they withdrew, she looked at her and smiled. Her soft green eyes were inviting her with every passing second. Playfully calling him to continue.
Klaus didn't say anything. He just looked at Cami and stroked her bared skin with his slow expert fingers. Rapid breathing and the sound of heavy heartbeats filled the room, and amidst that, Cami said, "well, are you going to kiss me again, or is that it?"
Klaus didn't wait another moment. He gently took her chin up with his fingers and pressed his lips once again to her mouth, sensing her warm breath and a smell of wine. His tongue found hers, batting with each other inside her mouth, and their lips were sucking on to each other. Instinctively his palms found her breasts, cupping them and stroking them to feel the erect nipples. He pinched them slightly and gently and rubbed his fingers on them, sometimes slowly and sometimes rapidly; sometimes in a circular motion and sometimes ebb and flow; sometimes he would tap them and pinch them with his fingers.
Cami moaned. That sweet sound he wanted to hear since the first time he saw her at Rousseau's when Marcel was with him. They both fancied her, but Klaus got her, and Marcel didn't.
His hand trailed to her stomach, hovered around her navel for some seconds, digging his fingers in the depth of her belly button, then reached down to her jeans. He unzipped her fly and slipped his hand into her panties, stroking that sweet delicacy that was already warm and soaked with her desire for him. Her pussy was swollen with blood rush and already stretched as to inviting him inside. Klaus put his fingers in her, rocking her smoothly with a rhythm. When she came, he looked at her, eyes rolled over her forehead, and she made soft noises with her mouth. She came quickly without much effort. He loved that and gave her a sweet crooked smile when she came back into her senses. She let out a big—what felt like something between a moan and a whimper. A whimper of joy, he supposed.
Then it was his time to give her what she created. He made her lie on the carpeted floor and put aside her panty to push himself in her. Two and three strokes, and he was already coming, bitting on her neck with uncontrollable passion. She winced in pain, but the pain was good, and he didn't mean to feed on her—he didn't, Cami knew. When he finished, his warm seed flowed from her swelling pussy, and it ran down her thighs. And he bit on his wrist to give her his own blood so that the wound where he had bitten her would heal. He watched her as she took his wrist into her mouth and slurped the blood, intensely staring into his deep blue eyes.
He collapsed next to her, looking at the walls and the ceiling with a comfortable silence passing between them. After a few minutes, he looked at her and caught the sight of her smiling face; her nipples were still peaking on her breasts, and they were still juicy, making the fire build inside of him again.
"What are you smiling at?"- he asked, half-smiling himself.
"No..it's just…this is the first time I had sex with a vampire, and I think it was the best sex of my life."- she looked at him, flashing her pearly teeth in delight. But then she realized something, and the smile was gone from her face in a second.
"What is it?"- Klaus's concerned voice greeted her.
"You won't compel me to forget this, will you?"- she asked, not that it mattered because she was already on vervain.
Klaus gave her a sweet chuckled but said nothing. He thought how silly that question was. But when he didn't reply, she prompted, "Please, Klaus, don't compel me to forget."
"No, love. I won't."
He took her face in his hands and kissed her on the forehead. They lay there for some more time and forgot about the vampires-werewolves-witches drama in the town.
Camille O'Connell
Kamille
Klaus Mikelson
The Orginals
Vampire sex