When it comes to intimacy and sexual exploration, believe me, or not, guys always finish last. I mean not in that way but in the other. You can always count on them to come first. But ask your boyfriend to have an MMF threesome, and he will disagree.
When I was young, I thought guys liked sex more than girls did. And I also thought that it would be easy to get a guy to do anything because they are all about sex (well, some of them are). But when I asked my boyfriend if we could have a threesome, he simply said "No way!". Well, we girls are not that concerned about having a FFM threesome. So, why do guys hate MMF so much? Today in this post I am going to tell you my mmf threesome stories and 5 reasons why my boyfriend said "No".
How to Have an MMF Threesome?
Threesome is one of the most common sexual fantasies by both men and women. Guys like the idea of having another girl in their bed more than we would like to have another guy in our bed. Well, it's a long story why men fantasize FFMs more than women fantasize MMFs unless it's a bi mmf threesome we are talking about. And there are some psychological reasons behind this. But that is a different context.
The most effective way to have a threesome with your boyfriend and another dude is to tell him why you'd like it. You will have to do that in a convincing way but if he still doesn't like the idea, there is nothing you can do. I will tell you 5 easy ways to convince your partner to try a threesome in another post. But before we get into that, you should know the reasons why your boyfriend is rejecting the idea in the first place. And the list of reasons below is a good way to start.
FOMO (The Fear of Missing Out)
When I asked my boyfriend for an MMF threesome, he looked troubled and really uncomfortable. He didn't say why he won't like it, but he just said that it will make him uncomfortable. Well, the first reason is he is jealous and insecure. It might sound like I'm criticizing, but if you translate "MMF threesome is not for me" into a straightforward language, it sounds like "I can't see you fucking another dude."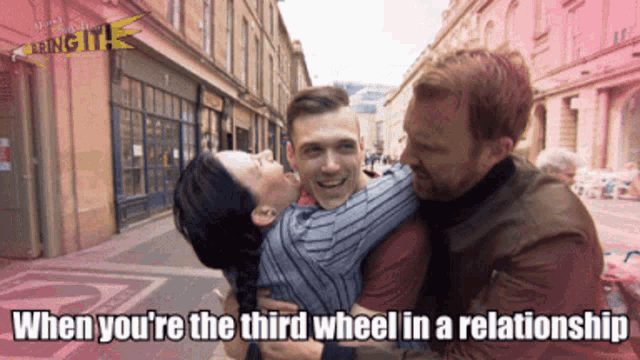 If you see it from a male's perspective, sharing their girlfriend with another dude is quite difficult. Seeing you having sex with another person will trigger their emotions and self-doubt about whether or not they are desirable enough. So, if you want to have a threesome, making him comfortable and confident about his own sexual abilities will be the first step to try.
The Ultimate Showdown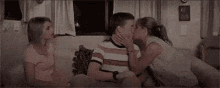 Humans are competitive by nature, and when you bring another man into the bedroom, your boyfriend sees it as an epic Battle Royale. He thinks that he has to compete with that other guy to win you over. Again, it comes from insecurities, but come on, we all have them. Make sure to assure him that a threesome is not a competition, rather it is a pleasurable sexual exploration that will leave the three of you satisfied. Make sure to tell him that you are not going to hand over any gold medal for the best sexual performance. And that your boyfriend is safe.
MMF Threesome: "Twice the Trouble"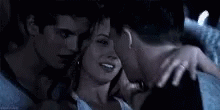 My boyfriend thinks that if there are two guys in a room, there are double chances of going something wrong. He keeps imagining this scene from a slapstick comedy where everything goes wrong – awkward fumbles, tripping over furniture, slipping inside the bathroom–the three of you, and so on. Well, I assured him that if something like that happens, I will still enjoy it because it's part of the fun. But then again, it's not just the mishaps, he is afraid of inviting a psycho to our bedroom. He has a point though. You won't know if the third person is crazy or not unless you know him for a long time.
The Age-Old Worries
Again, the fear of inadequacy and jealousy. Whenever we talk about why your boyfriend said no to an MMF threesome, it would come down to this– a feeling of inadequacy. He thinks that the guy you are inviting over is taller, buffer, or maybe has a sharper jawline that could cut cheese. Or maybe he is secretly afraid that he is not a bi-sexual man who would like a bi mmf threesome. So in that case, this disagreement is quite natural even though men are not having sex with each other when they are doing a threesome with a girl.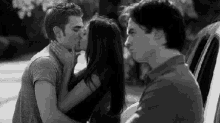 And if he doesn't know that already, maybe you should remind him that and tell him that it can be an erotic mmf threesome without that gayish part. But at the same time if he does not feel comfortable doing a threesome with another guy, then accept his sexual preferences and move on. Because in the end, consensual and mutual agreement is important for any sexual exploration.
Reclaiming 'Me Time'
Some boyfriends are just too lazy to even please their girlfriends. And do you think they are going to try– and they have to try in front of another guy which is going to slam their ego? That's going to be a big no for the man. Maybe he is just afraid that the other guy has some other opinions about what sex should be like and that he doesn't want to deal with them.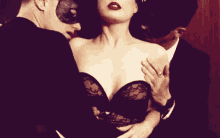 Or maybe he just wants to have sex with you as a matter of relaxation and enjoyment, and a threesome sounds like hosting a party. Hosting a threesome is like you have to be on the entertainment committee which is not how sex is like for many people. So he will just like the idea of having you around for fun and intimacy instead of inviting another person who could ruin the most intimate moment which is sex. And if that's the case, maybe try to buy a sex robot instead.
What Did Your Boyfriend Tell You About an MMF Threesome?
There you have the top 5 reasons why my boyfriend said no to an MMF threesome. But at the same time, you must remember that communication will take you a long way than criticizing and judging ever could. Your boyfriend may have different reasons for not wanting a threesome. It could be because he is a demisexual who prefers to have emotional intimacy first before sleeping with a person. Whatever the reason is, he is not wrong.
It is all a matter of choice and preference, and while you are in a loving relationship, you will have to accept what the other person wants and doesn't want. Always remember that if a threesome is out of the question, then there are other things you could try to spice up your sex life.
Feel free to tell me in the comment box below why your boyfriend rejected the idea of having an MMF threesome. I will try to come up with the solutions in the next post. Until then, keep loving and keep understanding.
mmf threesome
mmf threesome positions
mmf threesome stories
threesome